The custodian
The custodian of the museum came into contact with the founder of the museum in the early eighties of the previous century. That was Sembeau Lecocq, a naturalised Frenchman who spent his youth in the district Somme in northern France where in 1920 the battlegrounds of WW1 could still be found in exactly the same condition as they were ababndoned in 1918. Back then, the collection of WW1 items had actually already started. 
After many travels, Lecocq ends up in Schagen with his collection of WW1 materials in 1970. In 1974, Henk de Wilde who was the mayor at the time had the idea of refurbishing the vacant eastern castle tower of Schagen Castle and allot it for the establishment of a permanent exposition about the first world war.
No sooner said than done. The museum Battle of the Somme was born. The first and only WW1 museum in the netherlands. 
As stated, the current custodian came into contact and was, to put it simply, 'infected with the WW1 virus'. He befriended Lecocq and they searched the former battlegrounds for years. The collection in Schagen was expanding.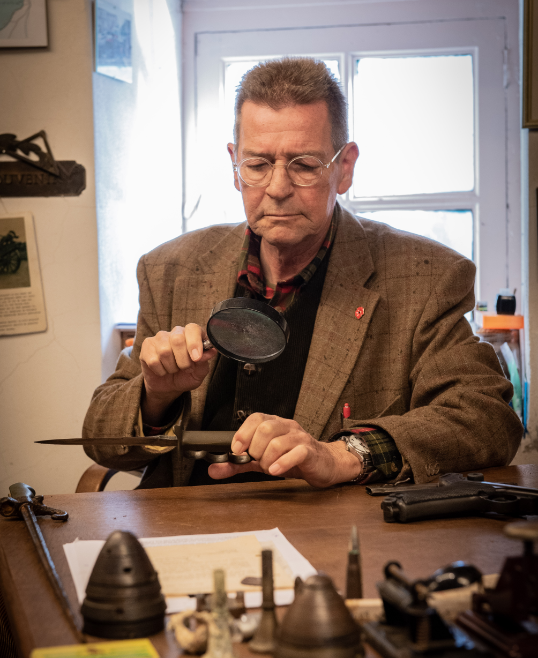 In 1986, an official partnership and the Memorial Museum Battle of the Somme 1914 – 1918 foundation were established. In 1999, the founder Sembeau Lecocq died 'fighting and with great reluctance', according to his death announcement. The current custodian Willem van Erp took over the 'management', as it had been agreed on in 1986. 
Meanwhile, the Slotplein in Schagen underwent an enormous reorganisation, this resulted in a new castle hotel, the cultural centre and the building markt 18 for culture, theatre, film, library, association, etcetera.
As such, anno 2020, it is an ongoing history with the museum in the historic centre of Schagen. The custodian Willem van Erp and volunteers Rob Bakker and Gonnie van der Vliet, as administrators of the foundation, positively run the museum with the important motto; 'Those who do not recognise their own history are doomed to repeat it.'