Opening hours
In summer, the Museum Battle of the Somme in Schagen is open during the West Frisian markets from 10 a.m. to 4.30 p.m.
Since the museum is not all that spacious and we would like to tell you nice stories, we work by appointment.
Make an appointment NOW
Entrance
€ 2,50 per persoon.
Museumkaart is niet geldig.
Location
T 0224 21 64 71
Battle of the Somme, an intensive battle in 1916.
In the eastern medieval castle tower of Schagen Castle you will find a collection of objects from the First World War. The name Somme Museum is derived from the fact that the archaeological finds come from the so-called "Somme area", a district in northern France where an intensive battle took place in the second half of 1916.
Willem van Erp
Custodian
Learn more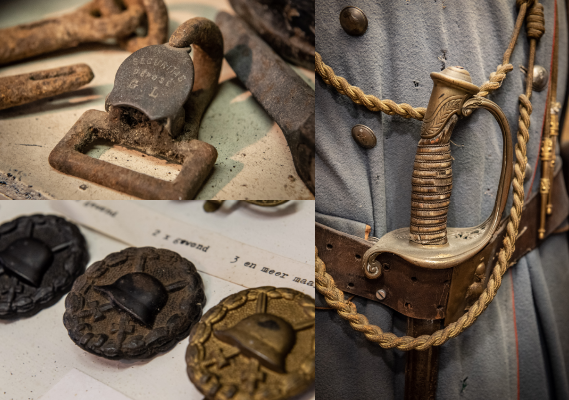 HIGHLIGHTED
French "Adrian" helmet with memorial plaque
If a French soldier had survived the entire war, this copper memorial plaque was placed on the helmet.
The inscription reads: Soldier of the Great War 1914 – 1918.
The veterans often kept the helmet on as they were given free drinks in the cafés. Most of them ended up as a 'clochard', though.
Do you want to see and hear more interesting stories?
Make an appointment
A 'forgotten war'. It became clear to me how gruesome a war has been and is. I was properly informed about things that you can not find in any history book. Outstanding!